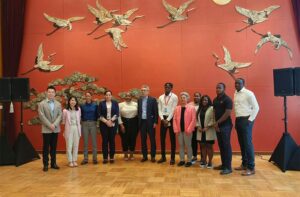 Director General of the Department of Latin America and Caribbean Affairs, Cai Wei and representatives from the CCDC with journalists from the Caribbean
AS China pursues its modernisation agenda through various avenues, including sharing its rich history and culture with the world, it is keen on strengthening its tourism initiatives with Guyana and the rest of the Caribbean.
Director-General of the Department of Latin American and Caribbean Affairs of China's Ministry of Foreign Affairs Cai Wei, at a briefing with journalists from the region, disclosed that the Chinese government has challenged its local air carriers to identify convenient travel routes between China and the Caribbean.
According to Cai, travel from China to Caribbean countries proves particularly challenging. Currently, persons travelling to any Caribbean country would have to book several flights and travel extremely long hours to arrive at their destination; this sometimes amounts to days.
"It is a difficulty for us…so far, I have not found a very convenient air route from China to the Caribbean. Before the pandemic, we used to have to travel from China and Montreal on to Havana. Some of the tourists go through the United States or Europe, but it's still difficult for us," Cai said.
He related that China has been exploring the possibility of partnering with Mexico to facilitate flights from China to transit. He said that the technicalities are still being sorted out. The other option would be to establish routes via Europe.
Guyana Chronicle
Read more: https://guyanachronicle.com/2023/04/19/china-keen-on-strengthening-tourism-with-caribbean/