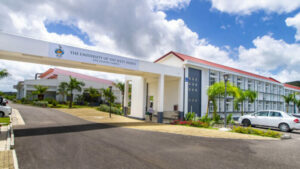 A collaborative project undertaken by The University of the West Indies (The UWI) together with the United Nations Development Program (UNDP), and the Frankfurt School of Finance and Management (FS) to support MSMEs through upskilling and digitalization, was announced as a winner of the 2022 Caribbean Sustainable Tourism Awards.
Since 2000, the region's tourism development agency, the Caribbean Tourism Organization (CTO), has organized the Caribbean Sustainable Tourism Awards to highlight the impactful, sustainable tourism actions by its member countries. The Business Adaptation Programme, developed to assist tourism MSMEs in the Eastern Caribbean received the 2022 Caribbean Sustainable Tourism Awards in the category of Tourism Education and Training, and was honored at a virtual awards ceremony held on Wednesday February 15, 2023.
In 2021, The UWI and FS were invited by the UNDP's office for Barbados & the Eastern Caribbean to partner to assist more than 300 Micro, Small and Medium-Sized Enterprises (MSMEs) increase their digital skills resilience to external shocks and access new markets within the tourism value chain. The UNDP Future Tourism Project was formulated as a response to the effects of COVID-19 on the tourism sector and its subsequent impact on MSMEs.
Read more: https://antiguaobserver.com/uwi-named-amongst-winners-of-the-caribbean-sustainable-tourism-awards/