U.S. Embassy in Dominican Republic and Haiti reiterate warnings not to travel to neighboring country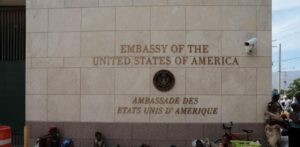 The U.S. Embassy in the Dominican Republic and Haiti reiterated the maximum alert they issued to their citizens "not to travel" to Haiti, given the border closure arranged by the Dominican Government due to the construction of an irrigation canal intended to divert waters from the Masacre River.
"Haiti's travel warning is level 4, 'Do Not Travel,' which means that any U.S. citizens still in Haiti should immediately depart as safely as possible via commercial means. Flights from Haiti to the United States and destinations other than the Dominican Republic continue to operate normally," they reiterated.
They indicated that the U.S. Embassy cannot facilitate entry into the Dominican Republic through a closed border crossing, so citizens still in Haiti should make alternative arrangements to leave.
"U.S. citizens should not travel to Haiti due to kidnappings, crime, civil unrest, and poor health care infrastructure," reiterates.