Tailor-made travel insurance for Cuba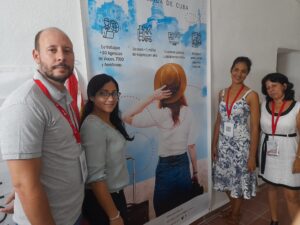 By: Rachell Cowan Canino
Do you already have your trip to Cuba ready? You prepared the itinerary, the plane ticket, and everything is organized to have the best vacations in one of the wonderful destinations in the Caribbean, surely; but do you also have your travel insurance ready? And the truth is that there are details, that although they seem uncomfortable to prepare, are essential to guarantee a unique experience.
For this reason, Esicuba proposes travel insurance tailored to Cuba, which aims to offer greater guarantees of peace of mind to travelers or those travel agencies and tour operators recurring in the island's tourism market.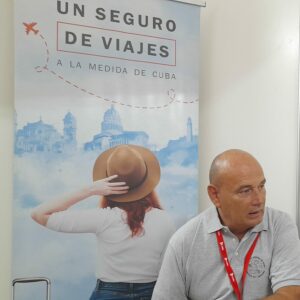 So, what are the benefits of this offer? To find out about this issue, we spoke exclusively with Juan Andrés Bello, who is the Director of Special Businesses of Seguros Internacionales de Cuba S.A. (ESICUBA) "Firstly, the benefits of the travel insurance that the entity sells fall on the knowledge of the Cuban market, hence the importance of contracting local insurance," he confirms.
The insurer has more than 30 years of experience in this area of work, and throughout that time the product has been readjusted to respond to international trends, visitor complaints, and even the Covid-19 pandemic.
Juan Andrés Bello assures that the promotion of these insurances in FitCuba 2023 corresponds to the utility they have for many travel segments.
The adjustment for various contingencies and eventualities, the wide coverage, the variety of plans and the always active assistance service, they're all among its potentialities.
"Capturing all or the vast majority of the tourists that arrive in Cuba is the goal for us," says Jorge Saínz Castro, principal specialist of Special Businesses. In this sense, he argues, among the new business models, Esicuba proposes the online contracting of its products through the CubaTravel and Solways websites, among others.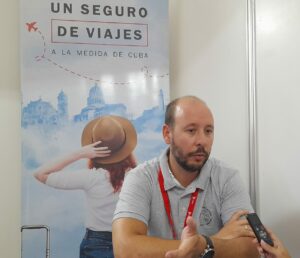 Beyond travel assistance insurance, Esicuba also offers insurance for the Transportation of Goods or Hotel Facilities. The three services are reaffirmed as the most requested by customers.
Are you convinced to travel and live your safe vacations in Cuba?
With Esicuba that is the plan.