Summer Tourism Boom as Celebrities Flock to Jamaica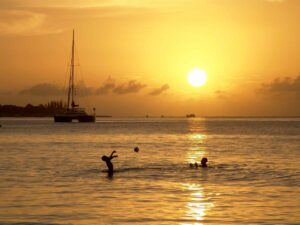 "As of May 10, 2023, the island has welcomed just over 1.5 million total visitors, with provisional gross earnings exceeding US$ 1.6 billion for the same period. The 2023 summer is gearing up to be the best summer in the history of tourism in Jamaica," says Minister of Tourism, Hon. Edmund Bartlett.
Already, 1.4 million seats have been secured, representing a 16% increase over the previous best in 2019. Jamaica's main source market, the United States of America, has locked in 1.2 of these seats. "We are expecting a load factor of some 87.5%, which means that 1.2 million visitors will come to Jamaica over the summer period and will bring revenue of some US$1.5 billion just within that period of June to August," says Mr Bartlett.
Travel bookings are currently showing a rise of 33% compared to summer 2022 and the anticipated boom is being weighed against Jamaica having welcomed approximately 3.3 million visitors for 2022/23 to register a remarkable recovery of earnings compared to pre-Covid earnings of 2019.
In the meantime, Minister Bartlett is also upbeat over the increasing number of celebrities flocking to Jamaica. "Making Jamaica their place of choice for a vacation is testimony to the post-Covid impression we have made and the appeal that we now have in the marketplace as well as confidence in what we offer as a leading destination," he says.
Breaking Travel News
Read More: https://www.breakingtravelnews.com/news/article/summer-tourism-boom-as-celebrities-flock-jamaica/