Havanatur proposes the 45th Anniversary of Megafam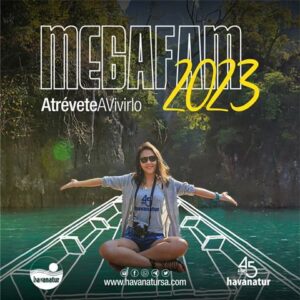 The International Group of Tour Operators and Travel Agencies Havanatur S.A, officially launched through all its agencies the call and promotional image associated with Megafam 2023, which will be held in Cuba in September.
The call gives continuity to the Group's communication strategy, under the motto "Dare to Live it-Cuba awaits you" and with the aim of coming to live a unique destination full of unforgettable experiences for vacations, another of its commercial actions aimed at the advent of its 45th anniversary.
With this, the aim is to relaunch the Oriente Cubano circuit, its own redesigned program, based on the air operations that this area concentrates in the destinations where Havanatur currently has the greatest actions for the winter 2023-2024 and the coming summer.
As part of the programs, it is planned to touch part of the northern cays of Cuba and visit the cities further east of the Island, including Baracoa, Santiago de Cuba, Bayamo and Holguín, discovering all the wealth they contain from the historical, architectural, cultural and natural points of view, with seminars to its sales network.
Also prospecting visits to the hotel plant present in the area.
Such communication action culminates in the Guardalavaca balneary -main beach tourist destination in the eastern zone- on September 27 in the context of the international celebrations for World Tourism Day.
The participation of more than 300 travel agents, airlines, media from more than nine countries and the presence of other tourism service providers in the territory is expected.
Havanatur marks a promotional strategy based on its business lines as an international tour operator, consolidating and expanding its operations in current markets and expanding to other developing and potential ones, such as China.
Among its purposes, the group ensures that they work to develop responsible and sustainable tourism, increasing the degree of satisfaction and loyalty of their clients towards the brand that has distinguished them for 45 years.
According to the directors of the entity, its more than 700 professionals guarantee quality and efficiency in ground services so that each visitor multiplies under the purpose of showing Cuba as a unique destination that is worth coming to.