Dominican Republic's tourism sector experiences historic strengthening with prestigious hotel brands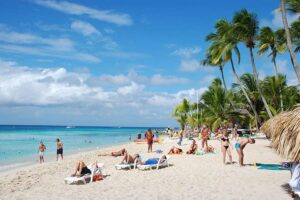 The Dominican Republic's tourism industry has witnessed significant growth and enhancement in terms of diversification and quality of accommodations, thanks to the unwavering commitment of highly prestigious hotel brands. This development has allowed the country to position itself in a segment that caters to a more discerning and demanding clientele.
While the country's tourism authorities acknowledge the importance of maintaining their core offering of sun and beach tourism, they also recognize the need to promote further diversification. According to Minister of Tourism David Collado, it is crucial to ensure that public beaches match the quality and amenities found in private areas in order to continue attracting nature-loving visitors.
Source: Dominican Today