Cuban Prime Minister foresees a gradual increase in tourism in the country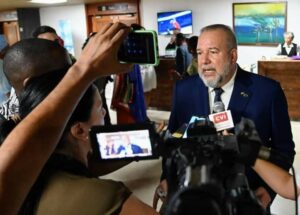 By: Daily Pérez Guillén
In an exchange with the press during the Meeting of Tourism Ministers of the Group of 77 and China, that took place in the Havana Convention Center, the Prime Minister of Cuba, Manuel Marrero Cruz, considered that participation in this type of spaces of socialization of experiences of Third World countries is very important. Issues such as multi-destination travel and the search for synergy in a sector that has changed as a result of the pandemic are relevant in order to achieve inclusive and sustainable tourism that is aimed at providing employment and wealth to our populations, said the premier.
Responding to questions from TTC related to strategies to recover European tourism interested in
the Cuba destination, Marrero, who was Minister of Tourism of Cuba for more than fifteen years,
reflected: «After the pandemic, tourism at a global level almost disappeared and a restoration process has come, in many cases with a great desire to travel after so much confinement, but it is no longer the same as before. There is a lot of competition, the flows are no longer in the same direction and specifically Europe as a whole, which is the second most important market for Cuba after Canada, is going through a crisis whose main reason is the conflict between Russia and Ukraine and because of that tourist flows are no longer going to the same destinations. There is a lot of travel within Europe, but this market is not flowing to the Caribbean and America as before. We are making strategies, promotion offices, marketing.»
In this sense, he announced that in FitCuba2023 a meeting was held with tour operators and
European airlines and that there will be flights from Barcelona and other destinations. "Although we
cannot think that there will be substantial growth at the moment, surely there will be a gradual
increase," he declared.
Regarding the use of big data for the promotion of the Cuba destination on digital platforms, the
Prime Minister stated that the world is transforming and new technologies change everything.
«Tourism is possibly one of the sectors that is introducing new technologies in marketing the fastest,
although we still cannot say that direct contact, person to person, is being renounced; the tour
operator, the owner of a destination. But social networks, new technologies are ruling the way of
promoting and how to sell.»
The regional director of Tourism of America, Gustavo Santos, participated in the meeting of the
Group of 77 and China, who spoke for a sustainable, inclusive and resilient path for tourism.