Cuba specialized in tourism fairs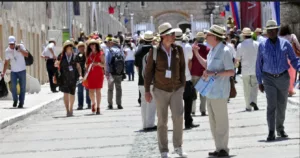 For experts and publications, the recently completed 41 International Tourism Fair of Cuba (FITCuba 2023) demonstrated a very advanced specialization dynamic in the organization of these festivities.
Among other media outlets, the Cuban agency Prensa Latina considered that the secret of this achievement is that "at the beginning of the second half of the 20th century, the Caribbean nation laid the foundations for the establishment of tourism of a social nature, which gave the opportunity to combine in one piece recreation and leisure and the enriching teaching in this type of organization"
According to the historians of that sector, the first fair of the profile of the one that has just concluded in Havana also took place in the capital of the island from October 17 to 24, 1959.
An event that later and at that time, always within the framework of the fair, was especially successful was the IX Convention of Tourism Agents (ASTA). More than two thousand agents from 82 countries, accompanied by their relatives, then visited the Cuban capital. These are "unprecedented numbers in the eight conventions previously held," the Cuban news agency commented.
Another interesting fact was that in 1963 the National and International Tourism Company (ETNI) was founded, the direct predecessor of the Cubatur S.A. Travel Agency, in charge of serving the incipient tourism that was beginning to see the Island as an interesting destination.
Years later, in 1980, the Cubatur Travel Convention was convened, with headquarters in the emblematic Habana Libre hotel in the Cuban capital. The event aroused international interest, motivating the participation of more than 300 delegates and representatives of more than 200 travel agencies from around the world.
These annual fairs "since their inception have been held every year and alternate venues between Havana and the Varadero resort. The event had several names: Cubatur Travel Convention, Cubatur Travel Fair, Tourism Convention, until finally it was called the International Tourism Fair of Cuba. (FITCuba)", commented Prensa Latina.