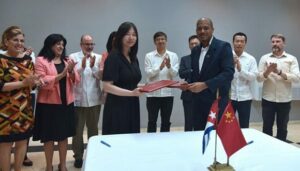 Representatives of the Havanatur International Group and the Chinese tour operator Tumei International Travel signed a memorandum of understanding that seeks to promote the arrival of tourists to Cuba to enjoy the reliable and safe destination, as described by the Chinese side.
During the signing at the Meliá Cohíba Hotel, Rodrigo Wen, deputy general manager of that agency specializing in tourism in Latin America and the Caribbean, said that Cuba is a priority destination on his agenda and ranks among the clients' preferences.
"We understood the concept of Unique Cuba" he assured when commenting on the visits these days to various destinations known to tourists from his country such as Havana, Varadero, Cienfuegos and Trinidad.
María del Carmen Orellana, First Vice Minister of Tourism of Cuba, added  before that they discovered new places of special attraction such as the city of Baracoa, in Guantánamo.
They said they were happy to arrive at remodeled hotels during the years of the pandemic (COVID -19), becoming properties better adapted to the needs of the Chinese market.
The vice minister first conveyed to the representatives of Tumei the confidence in the destination and pointed out that the conditions have been created for Chinese citizens to feel Cuba as their second homeland during their stay.
"We are very happy with the decision to restore travel abroad for Chinese citizens after the long period of the pandemic and the inclusion of the Caribbean country in the nations approved by the Asian giant to resume group visits" he said.
He added that tourism in the largest of the Antilles has been prepared and has studied the characteristics and demands of the Asian market to receive Chinese visitors with the best disposition.
According to Orellana, the so-called smoke-free industry in the Caribbean country is beginning to take the first steps of recovery, and its personnel are being trained and requalified, because after the pandemic, tourist activity is different and must be faced.
On behalf of the Havanatur Group, Yoelkis Salazar, its general director, thanked Tumei for choosing them to carry out the project that will promote the modalities of cultural, heritage and nature tourism, in addition to the sun and beach product.
At the ceremony, Alberto Blanco, director of Asia and Oceania of the Cuban Ministry of Foreign Affairs, and Chou Quan, economic counselor of the Chinese Embassy, agreed on the excellent state of bilateral relations between the two nations, friends and sisters for decades.
Source: ACN