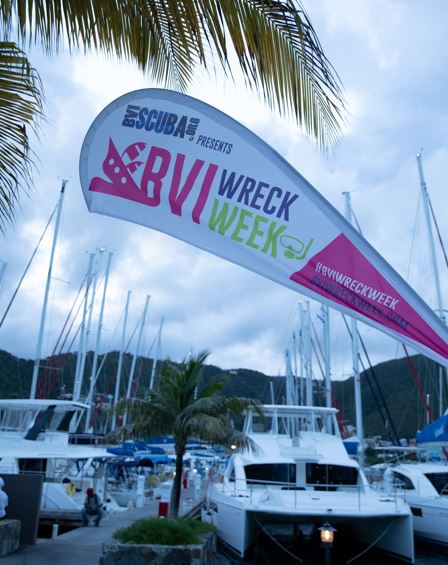 The British Virgin Islands is known for experiences such as its regattas, festivals, and beach activities, but do you know about the intriguing event that celebrates the deep ocean of the BVI?  The BVI Tourist Board & Film Commission is pleased to announce its partnership with several dive partners in the BVI for Wreck Week 2023 which runs from 12 – 18 February 2023.
BVI Wreck Week was created to generate interest and create a passion of the ocean in visitors and residents. BVI Wreck Week will host a seven-day celebration that promotes the diving industry of the Territory. It caters to all age groups and will feature music, food, festivities, and cultural components.
Wreck Week will showcase a host of activities around the BVI and will kick off with a Pirate Party at Hendo's Hide-Out on Jost Van Dyke on February 12. The week includes coastal clean-ups, youth group meet-ups, quizzes, and fundraisers, and will highlight a Tortola Sloop presentation and demonstrations by the BVI Heritage Dancers. Wreck Week will culminate with the unveiling of an environmentally friendly giant turtle sculpture designed and created by Beyond the Reef.
Director of Tourism, Clive McCoy said, "We at the BVI Tourist Board & Film Commission are excited about this opportunity to join with our industry partners and the community at large at BVI Wreck Week.  Marine and ecotourism events such as Wreck Week not only promote our diverse network of sites such as the RMS Rhone, Sharkplaneo, Willy T, and Kodiak Queen, as well as beautiful coral reefs, but it engenders an awareness of marine conservation".
Mr. McCoy elaborated that he is happy by the number of industry partners and non-profit organizations who have contributed significantly to BVI Wreck Week. He added, "I am inviting everyone to come out and celebrate the BVI's award winning majestic dive spots.  Tourism is everyone's business".
President of the BVI Scuba Association, Kim Huish is elated by the support being received for BVI Wreck Week. "We are honored to have two amazing Ambassadors – Mr. Alton Bertie and Honorable David D. Archer, Deputy Governor. Their unwavering support has been instrumental in getting this event off the ground. They share our hopes that this becomes a regular annual fixture which both guests and residents look forward to", said Kim Huish.
BVI Wreck Week is supported by a host of charities and non-profit organizations:
BVI Dive Association
Cuan Law
Blue Water Divers
Dive BVI
JVD Scuba & Eco Tours
Sail Caribbean Divers
We Be Divin'
Green VI
Beyond the Reef
VISAR
KATS
YEP
BVI Wreck Week 2023! Share our amazing BVI Maritime world together – both above and below the water.
About the British Virgin Islands
Known as a treasured destination rich in undiscovered experiences, the British Virgin Islands (BVI) is an alluring archipelago comprising 60 islands and cays located in the northeastern region of the Caribbean Sea. With plentiful private villas and luxury boutique resorts, there is no shortage of accommodations from which to choose, whether for leisure or MICE (meetings, events, and incentives) travel. The BVI has long been hailed as the sailing capital of the world for its line-of-sight sailing, myriad boat charter options (bareboat, crewed, powered, traditional hoisted sail), and an array of experiences catering especially to yachties.
The BVI is continually recognized with accolades including "Top Islands in the Caribbean, Bermuda and the Bahamas" in Travel + Leisure's World's Best Awards 2020, placing #2 on The New York Times' coveted "52 Places to Go in 2020′ list and ranking "#1 Best Place to Visit in the Caribbean" by U.S. News & World Report in 2017, 2018 and 2019 and #2 for 2021-2022. For more information on how to experience BVILOVE, visit the British Virgin Islands Tourist Board & Film Commission website at www.bvitourism.com or contact 1-800-835-8530.
Distributed by CTO on behalf of the BVI Tourist Board.