Between 10 and 16 hurricanes to form in the Atlantic Ocean for the 2023 season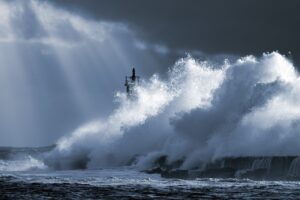 The Atlantic hurricane season officially begins next Thursday, June 1. The Pacific one started on May 15.
However, the one that has most focused the attention of specialists from the national weather service, the Instituto Meteorológico Nacional (IMN), is the Atlantic.
For this 2023 season, between 10 and 16 cyclones are expected, according to Luis Fernando Alvarado, the coordinator of the IMN Climatology Unit.
This year, which will be affected by El Niño, is expected to have a definite number of cyclones based on the forecasts:
7 to 9: tropical storms
1 to 3: Category 1 or 2 hurricanes
2 to 4: Category 3, 4, or 5 hurricanes
– Advertisement –
It's expected that the 2023 season will be around 10% lower than usual. Alvarado added that El Niño will make cyclonic activity in the Atlantic decrease by 30%.
Is there a risk of impact in Costa Rica?
Alvarado said there's hardly any chance of that happening. This is mainly due to El Niño, which the US National Oceanic and Atmospheric Administration (NOAA) Climate Prediction Center has confirmed has a 90% chance of appearing in peaceful waters.
Latest NOAA hurricane forecasts
El Niño is often linked to hot and dry conditions, which are expected to be more intense in the Americas from northern Brazil to Central America this year.
Generally, Pacific cyclones usually don't affect Costa Rica, however, there have been exceptions like Alma in 2008.
Read more: https://qcostarica.com/between-10-and-16-hurricanes-to-form-in-the-atlantic-ocean-for-the-2023-season/