Air France celebrates 90 years of elegance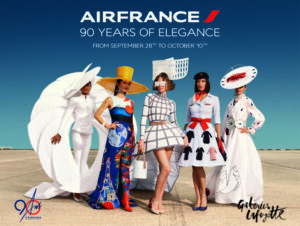 Air France is celebrating its 90th anniversary on October 7, 2023, and to mark this milestone, they have collaborated with Xavier Ronze, head of the costume design workshops at the Paris Opera ballet, to create a collection of five iconic dresses representing the airline's legendary history. These dresses will be showcased in an exhibition at Galeries Lafayette Paris Haussmann from September 28 to October 10, 2023.
Founded in 1933, Air France has consistently promoted the French art of travel and now operates close to 1,000 daily flights to 200 destinations with a fleet of over 240 aircraft. The airline is celebrating 90 years of excellence, innovation, and elegance both on board its planes and in its various cultural and design contributions.
The collection of dresses reflects different aspects of Air France's legacy, including aircraft and technology, uniforms and fashion, promotional posters, fine dining, and design and architecture. Xavier Ronze, the costume designer, has blended historical elements and contemporary designs to create these unique dresses that represent the best of Air France and French expertise.
Galeries Lafayette in Paris has been chosen as the venue for this exhibition, where the dresses will be displayed alongside vintage Air France memorabilia and contemporary offerings. The exhibition aims to showcase 90 years of in-flight comfort, iconic aircraft, designer uniforms, in-flight dining, and design.
Visitors will also have the opportunity to purchase exclusive Air France merchandise, including aircraft models, comfort kits, postcards, baggage tags, and notebooks featuring the 90th-anniversary theme. Air France is partnering with luxury French brands such as Vanessa Bruno, Delsey, Bernardaud, Brun de Vian-Tiran, and Le parapluie de Cherbourg to promote French craftsmanship.
For the first time, Air France is offering visitors the chance to buy original tableware used in its La Première and Business cabins between 1966 and the 2000s, with proceeds going to the Air France Foundation, supporting children worldwide.
Additionally, Air France will host fashion shows at Galeries Lafayette Paris Haussmann, showcasing 90 years of French elegance through the evolution of its uniforms, from the earliest outfits to couture pieces by renowned designers like Christian Dior, Cristóbal Balenciaga, and Christian Lacroix.
Source: Aviation24