Vietnam looks to be among 30 most competitive tourism nations worldwide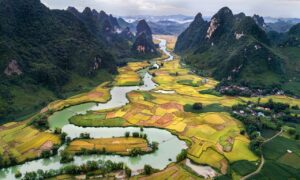 The Vietnamese government issued a resolution on solutions to accelerate tourism recovery and develop tourism sustainably and effectively on Thursday, moving toward turning Vietnam into one of the world's 30 leading countries with the highest tourism competitiveness.
As per the resolution, the government tasks the Ministry of Public Security with completing the immigration policy and creating more favorable conditions for foreign visitors to enter, stay in, and leave the country.
Besides, the ministry is also in charge of expanding the list of nations eligible for e-visa application.
The government will also propose the lawmaking National Assembly extend the e-visa validity to 90 days from 30 days to lure international tourists, especially those who want to stay long in Vietnam.
Besides, many tourism experts and travel firms have put forward numerous measures to woo international travelers to Vietnam.
Le Truong Hien Hoa, deputy head of the Ho Chi Minh City Department of Tourism, said that visa application procedures should be improved to attract international travelers.
"It is necessary to shorten visa issuance time and simplify entry procedures," said Hoa.
Also, a representative of a travel firm said that easier visa policy would attract more international tourists.
National Assembly deputy Bui Hoai Son told Tuoi Tre (Youth) newspaper that to spur the international tourism segment, Vietnam should adopt numerous solutions at a time, with a focus on diversifying tourism products, building distinctive products, advancing tourism promotion, and beefing up the quality of tourism services.
"We should facilitate the entry of foreign visitors, bring new experiences to travelers, and organize multiple exciting cultural festivals and events to satisfy them," Son underlined.
It is vital to create uniqueness to woo the sheer number of international holidaymakers, said Tran Van Thanh, director of the Department of Tourism in Binh Dinh Province.
"Binh Dinh Province, located in south-central Vietnam, is planning to welcome international tourists to its Cham tower cluster and fishing villages, and serve foreign visitors with sports tourism," Thanh said.
Tourism marketing and promotion activities should be changed to make them more effective, according to many tour operators.
Pham Ha, chairman of Lux Group, said that to ramp up the number of foreign travelers enticed back to Vietnam, the country should improve the image of tourism by positioning national tourism brands associated with food, landscapes, culture, and people.
In 2023, Vietnam looks to welcome eight million international tourists and earn VND650 trillion (US$27.7 billion) from tourism.
In the first four months of the year, 3.7 million foreign visitors traveled to Vietnam, meeting 46 percent of the full-year target.